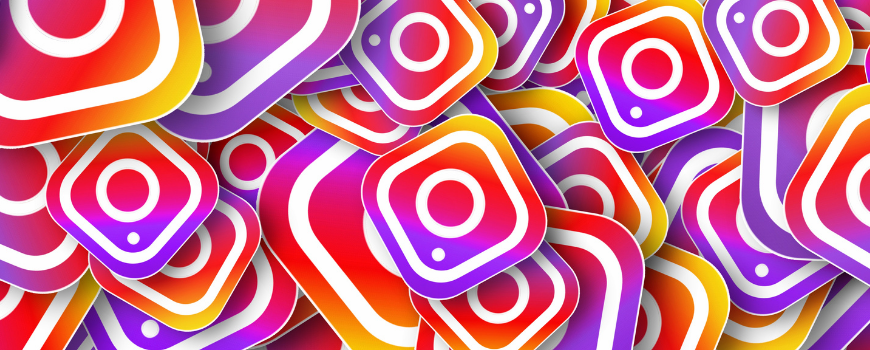 How to Use Instagram for Your Business
It's no secret that Instagram can help get your business noticed on social media. What tends to elude some businesses is how. With over 700 million active accounts on Instagram and more "Story" users than Snapchat, creating an Instagram feed that is going to help your business can seem daunting, but it can be an important tool if you can clearly show your audience why you are on this platform.
1 – Clarify your Purpose
Are you going to raise brand awareness, drive sales, increase website traffic, or engage customers? Being clear on the intent of the company's Instagram account will help keep content focused and consistent. Keep in mind that Instagram's demographics tend to run younger and they are looking for a specific experience when going on this site: something positive, authentic, and identifiable.
Start with crafting a candid bio blurb and use a profile photo that is consistent with your website and other social media platforms. Optimize your profile by including as much pertinent information as possible. Be sure when doing this to include a link to your website to drive traffic to your company's designated page which you can track in Google Analytics.
You will need to know how to develop content for your profile vs your Instagram Stories. Keep in mind it's not only why you use one over the other but how. With a 24-hour view-ability, the biggest differentiator are that Stories are more timely, personal and "on the go". They can be video and images like regular Instagram posts, but can be interactive with fun overlays like polls and live hashtags. Instagram posts themselves should be much more planned and formatted within a cohesive visual theme.
The latest Stories Highlight function lets you pin any one of your Stories to your page and lets people click within your bio to view it if they happened to miss it within your Story itself. Think of it as your own video message waiting for people to see when they want to learn more about your company!
Instagram's Insights function will also help you understand follower demographics, what stories get "likes", profile visits or website clicks.  Then you can refine your messaging guidelines based on what is getting "likes" or comments.
2 – Help your Customer Find You
Since Instagram uses an algorithm to serve up content vs. serving it up in chronological order, it is important to make your posts more "visible" to users by using different tools within the app:
Geotags: For traditional "brick and mortar" businesses adding your business location to your posts will help people locate you, they can "check in" when they visit you and search for posts in their current location. You can also "re-gram" their posts (also known as User Generated Content or UGC) should they use your geotag.
Connecting to other Instagrammers: Just like in Twitter, the '@' symbol is how you tag others within your post caption or Story. Be sure to engage with users on their pages too!
Hashtag: Adding hashtags to your post caption can also help you reach a larger audience. It could be a trending hashtag or something specific to your brand. The more the better; but remember only have a few hashtags within the caption and create a comment under your post with an additional 20 hashtags. It keeps your original post clutter-free.
3 – Tell your Company's Story
Moving beyond regular photo posting, Instagram Stories was introduced in 2016 and has become more popular than Snapchat. The Stories function can be a collection of up to 10 photos or short videos, highlighted at the top of the Instagram home page.
As with regular photo posts, being clear on the intent of the "story" is important.  Popular business stories include:
Giving followers a "Behind the scenes" look at work
Sharing your company's culture to help people understand why your business is more than just a place to work
Highlight customer stories with your followers – positive feedback or suggestions you will be implementing based on customer input
Show how-to clips on the amazing things your company does
Utilize these nifty Instagram Hacks and take advantage of some of the additional stylistic features Instagram offers to make your content pop even more
These video insights into your business can also be done with a LIVE broadcast using Instagram.  Real-time broadcasts are a great way to promote events, celebrations or capture news as it is happening. Instagram will also ping your followers each time you go live with a "catch it before it's over" urgency. This is a major perk to utilizing the LIVE feature.
4 – Starting Ads
Just like in Facebook, you can advertise on Instagram, but you can utilize features specific to Instagram, like Stories, to promote your business. Instagram does give you the streamlined capability to manage your ads simultaneously on both Instagram and Facebook. This framework includes four options to display ad content (Photos, Videos, Carousel or Stories).  There are also lots of ways to target your audience including location, demographics, interests, behaviors and more!  These precise ways of targeting people means you don't need a huge budget for ads. Analyzing results to see who you are reaching is important to refine your message or ad spend.
Knowing your audience and how to reach them is key to being successful on a social media platform. Instagram for Business is positioned to help companies reach their target audience and backs it up with data, too! If starting out your company on Instagram seems daunting, remember that's what Social Drive is for!
#doyouinstagram? #instagood