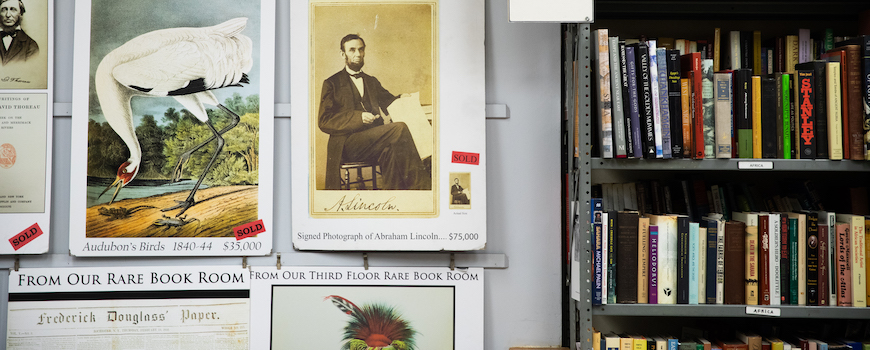 2023: Boston's 7 Most Instagrammable Places
Every year new, amazing Instagrammable spots pop up all over the city. Are you searching for the perfect blend of Boston's picturesque charm and unmissable destinations in 2023 for your Instagram? Look no further. Get ready to immerse yourself in a whirlwind tour of Boston's most Instagrammable hotspots that blend history, aesthetics, and that undeniable wow factor. From the secret gardens of Louisburg Square to the enchanting allure of Beacon Hill's cobblestone streets, and the cozy nooks of Brattle Bookshop, these seven captivating locations will have you planning your next adventure in the blink of an eye. Sharing these images isn't just about aesthetics – it's about igniting a spark of exploration in all who behold the greater Boston area.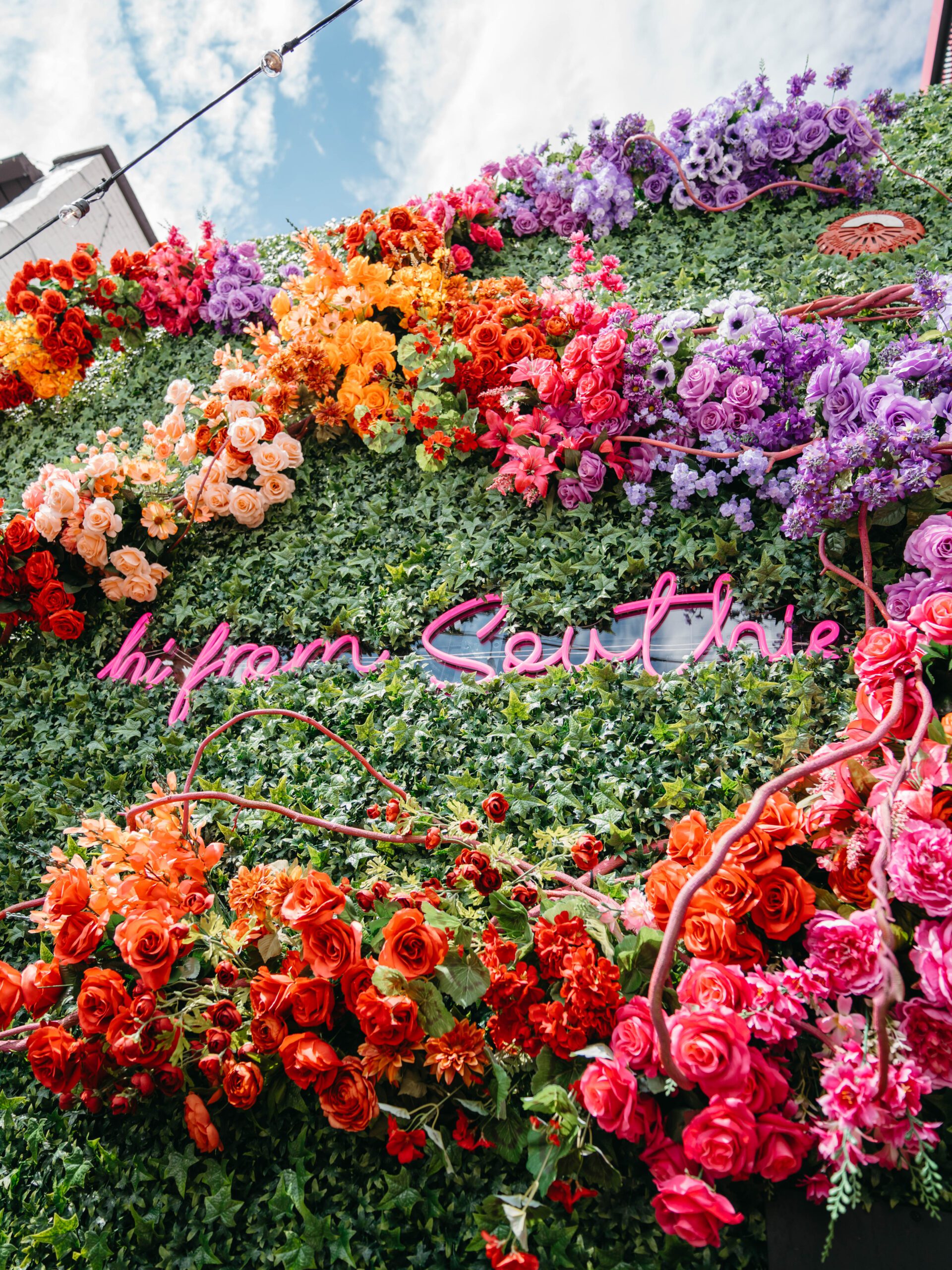 Step into a piece of history turned Instagram haven at Cannonball Cafe Patio! Once a bustling foundry crafting cannonballs for the Civil War, this vibrant spot at 383 Dorchester Ave now serves up locally roasted Gracenote coffee, mouthwatering toasts, breakfast sandwiches, and delectable pastries. The echoes of clanging iron have been replaced by the buzz of excited patrons capturing the perfect shot against the backdrop of the cafe's newly renovated, larger-than-life. Don't forget the "fake step forward" technique – it's the secret pose to nailing that effortlessly cool shot. From casual meet-ups to even weddings, their patio events have taken the city by storm.
Don't just take my word for it – content creators, community pages, and influencers like @hoamsy (11.6K), @bostonbychloe (29.8K), and @Onthedotboston (3.3K) can't get enough of their signature culinary delights. So grab your camera and your cravings, because at Cannonball Cafe Patio, every shot tells a story of transformation and taste.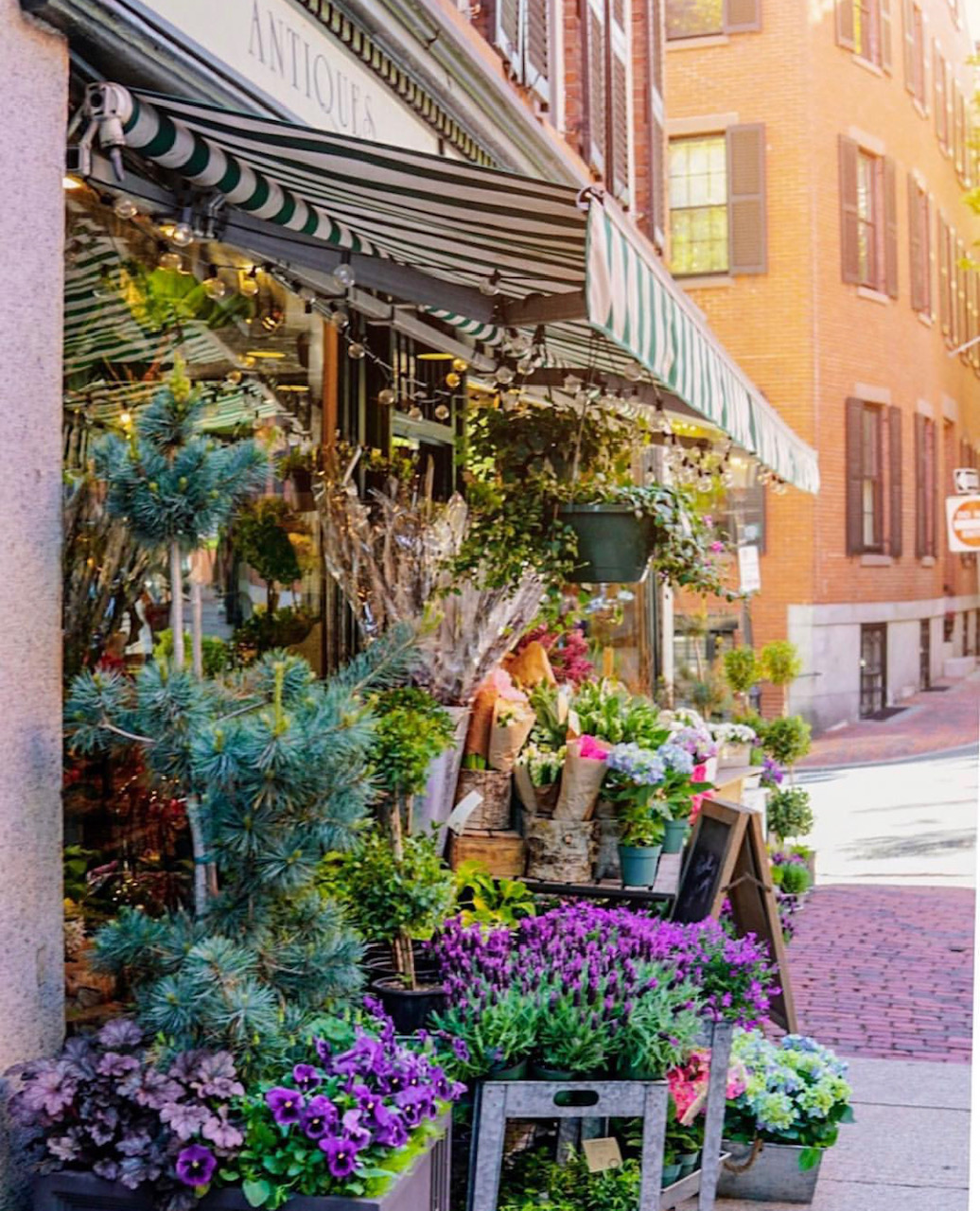 Discover the floral haven that is Rouvalis Flowers, where beauty blossoms in every petal. This family-owned gem at 40 W Cedar St. has woven its roots into the heart of Beacon Hill, Boston's historical and upscale neighborhood. As proud keepers of time-honored relationships with their customers, Rouvalis Flowers isn't just a shop – it's a beloved institution that warmly welcomes new clients into the Rouvalis family every day, mirroring the close-knit feel of Boston itself. Wander through their Instagram page @rouvalisflowers (17.9K), and you'll be greeted by the likes of @lisilerch (90.8K), @coffeesoakedpages (67.1K), and @Ladyblacktie (138K), who perfectly capture the essence of seasonal arrangements and the enchanting exterior of this quaint flower haven.
The appeal? An unmistakable European aesthetic that transports you to a charming world where flowers aren't just a gift, but a piece of art that reflects the culture and soul of a city. Snap a pose in front of those ever-changing seasonal flowers – each shot's a fresh masterpiece. And here's the fun twist – every Instagrammer seems to stumble upon a different floral universe because of those rotating arrangements. Soak in the natural flower perfume, capture those vibrant blooms, and let your feed flourish in a symphony of scents and colors. Another bonus: helping a local flower shop by both shopping and tagging them (and maybe they'll give you a reshare too)!
Terra at Eataly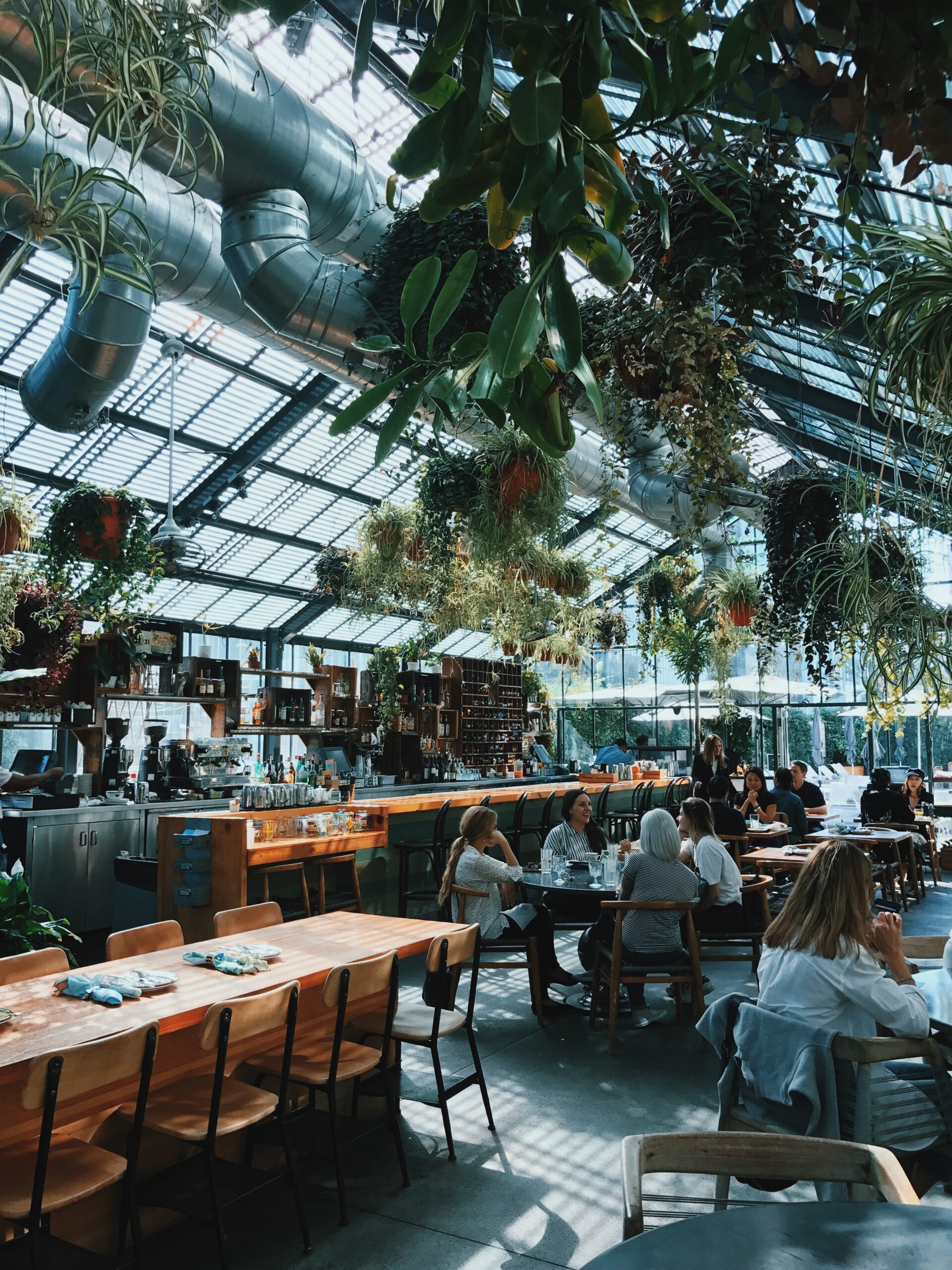 Welcome to a culinary oasis where Terra at Eataly Boston redefines Instagrammable with every plate and panoramic view. Set apart from its cookie-cutter counterparts, this culinary mecca at 800 Boylston St, proudly boasts a locally sourced soul. A unique layout showcases dairy, produce, and ingredients from the Massachusetts heartland, distinguishing it from any Eataly you've encountered. While @terraboston (14.9K) provides a glimpse into this vibrant world, influencers like @meetbostonusa (98.6K) and digital creatives like @g.montanaro_ (11.5K) capture the charm of Terra's hanging plants and wooden accents. Snapshots of your mouth-watering orders – from the bird's-eye view to those tantalizing close-ups. And don't forget the classic toast pic, complete with raised glasses and culinary creations front and center. Oh, and the indoor greenery? A must-capture, naturally. But the balcony view? Oh yeah, that's where you'll get the double whammy of Boston's skyline and your delectable delights.
Acorn Street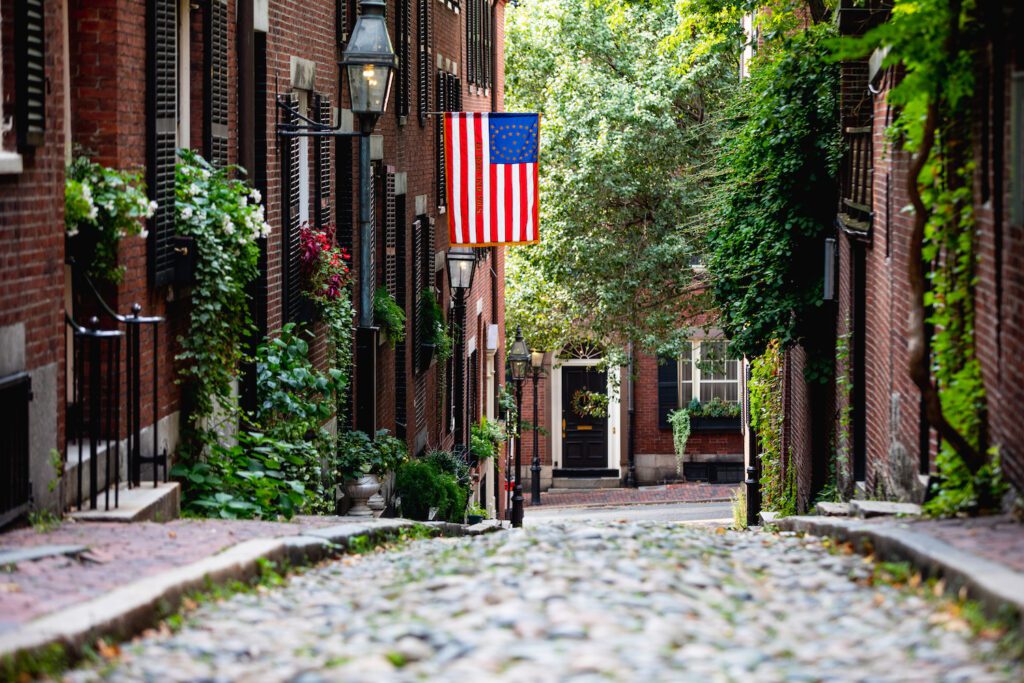 Get ready to step back in time on the charming cobblestones of Acorn Street in Boston's Beacon Hill neighborhood – an Instagram-worthy treasure trove waiting to be discovered! Laid out in the 1820s, this historic street boasts a quirky past as "Kitchen Street," where cooks and coachmen once resided close to their employers. Some houses even served as horse stables, adding to the fascinating layers of history. It's no wonder that influencers like @bucketlistboston (72.8K), @thecitylists (144K), and @boston.travel (143K) find inspiration around every corner. As one of the most anticipated stops on the PhotoWalks Beacon Hill tour or Highlights of Boston tour, Acorn Street exudes 19th-century charm with its quaint row houses, vibrant window box flowers in spring and summer, and antique gas lamps that set the scene for an enchanting stroll through Boston's past.
And, not to mention, any outdoor photos taken often have the best lighting for your Instagram! Strut your stuff with an action shot – walking those charming stones while someone captures your stylish back view. And don't forget to embrace the vibes with an American flag backdrop and the rustic charm of those brick facades. So, walk, pose, and let Acorn Street be your chic and Insta-fab catwalk.
Iconic. Find a world of artistic wonder at the Isabella Stewart Gardner Museum in Boston – a truly Instagram-worthy masterpiece. The museum's inception was the culmination of Isabella Stewart Gardner's lifelong journey alongside her husband, John ("Jack") Gardner, as they traversed Europe, the Middle East, and Asia to amass an extraordinary collection of over 2,500 objects spanning the ages.
Situated at 25 Evans Way, this museum beckons with its Instagram handle @gardnermuseum (130K), attracting influencers like @Joyraft (22.1K) and @Adventuresinart (4K), who spotlight its significant collection of European, Asian, and American art. Through paintings, sculptures, tapestries, and decorative arts, the museum sparks creativity and thought, inviting you to explore and engage with the incredible depth of human expression. Step into those enchanting archways for an Instagram-worthy shot or take a stroll through the ever-evolving greenscape of plants and florals.
PS – This was the museum where an unsolved art-heist occurred – learn about it from the Netflix Docu-Series… This is a Robbery: The World's Biggest Art Heist!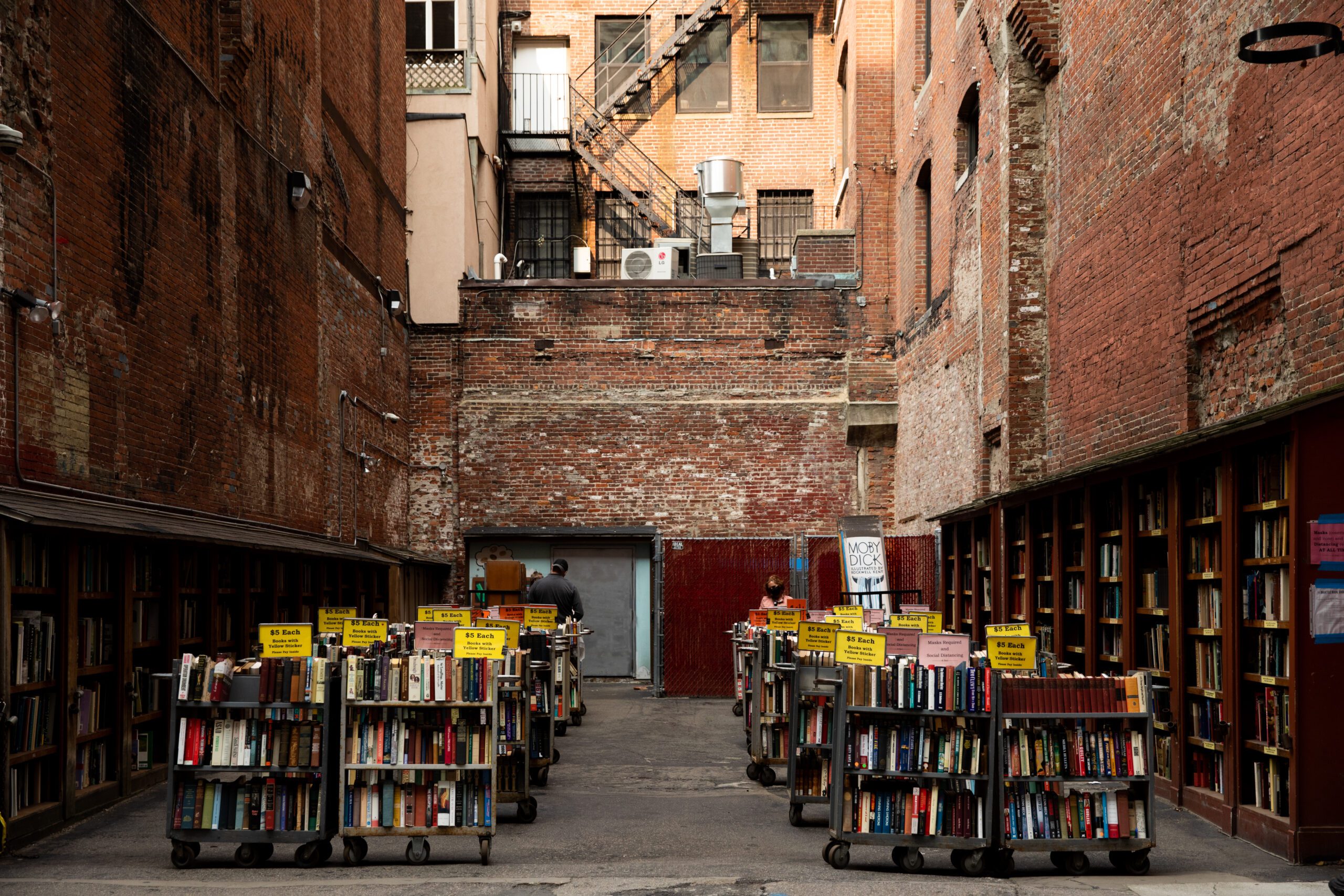 What's so cool about a bookshop? Well… picturesque literary enchantment at the Brattle Bookshop in Boston – an Instagrammer's delight. Founded in 1825 in the Cornhill section of the city, this family-owned treasure has been under the loving care of the Gloss Family since 1949. Nestled at 9 West St, it's no surprise that both the Instagram handle @brattlebookshop (10K) and digital creator @breathing_pages (57.9K) can't resist showcasing one of America's oldest and largest historical bookstores.
With three floors brimming with used books, magazines, and a few rare first editions, the allure of this literary haven is impossible to resist. And don't forget to capture the magic outdoors – the stacks adjacent to the building have been a favorite backdrop for many Instagram shots. Whether you're pretending to flip through pages or are genuinely lost in a literary world, these poses are bound to capture hearts on your feed.
Louisburg Square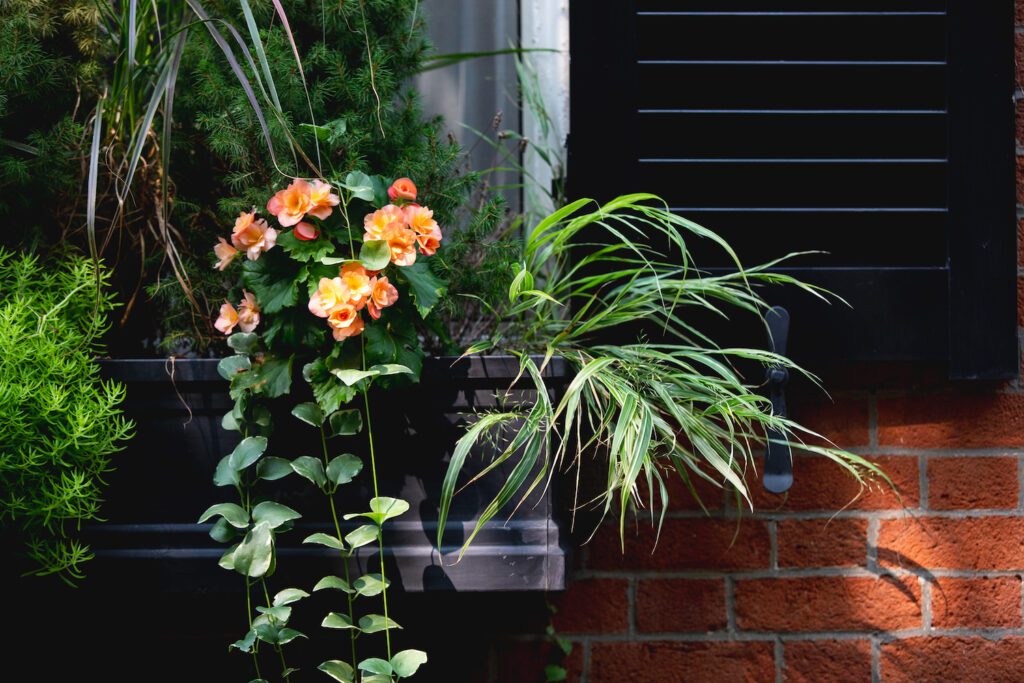 Nestled in the heart of Boston's historic charm, Louisburg Square isn't just a private residential park; it's an Instagrammer's dream come true. Just a heads up – the square is open to the public, so anyone can enjoy leisurely walks, activities, and photo opportunities without being an exclusive resident. Steeped in history dating back to 1826, when it was laid out by the Mount Vernon Proprietors, this enclave of elegance boasts homes from the 1800s and statues of Aristides and Columbus that have stood since 1850. Located at 10 Louisburg Square, it's a haven for influencers like @BretClancy (39.7K), @Olenasquared (21K), and @Natullina (10.2K) who share the allure of local decor and the enchanting ivy that weaves its way through the square. Moreover, the holiday season paints it with a special kind of magic.
Perched just behind Acorn Street, this spot ups the ante for any Instagram feed, boasting some of Boston's most iconic brownstones that have a story to tell. Sway in front of those vine-draped historic houses or flaunt your flair with the Greek Revival stunners. Psst, cobblestone streets make for both bold poses and dreamy walks. Selfie moment? Absolutely! Strike a pose against these architectural treasures, toss on a sepia filter, and voilà – you're suddenly the dapper star of a 1920s movie reel. It's your time to shine, effortlessly classy and chic! Whether it's capturing the architecture's beauty, the decor's coziness, or the holiday spirit around Christmas time that envelopes the area, Louisburg Square is where history, aesthetics, and social media unite.
Ascend to the third floor, and an illusion of an enchanted greenhouse unfolds – where every snapshot tells the story of culinary passion, local dedication, and a dining experience that's as captivating as it is delectable. So, let the camera eat first (see: tips for photographing food) and indulge your followers in a taste of Terra's delights.
Conclusion
Embarking on a journey through Boston's top 7 Instagrammable locations – the Brattle Bookshop, Isabella Stewart Gardner Museum, Acorn Street, Terra at Eataly, Rouvalis Flowers, Louisburg Square, and Cannonball Cafe Patio – is an invitation to uncover the city's soul, one captivating frame at a time. As you soak in the history, beauty, and aesthetics of each destination, you're not just snapping pictures, but weaving stories. To amplify your social media reach, dive into our insightful articles on maximizing views and mastering social media strategies in our blog. Through your lens, let Boston's tales unfold, inspiring others to join the journey and transform moments into memories.