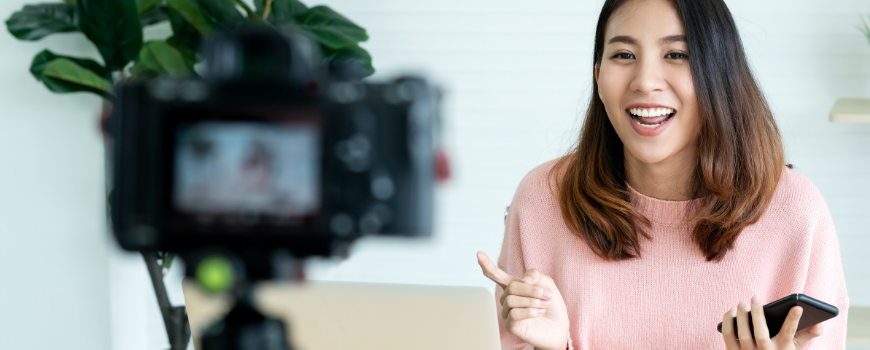 The Benefits of Video Marketing for Small Businesses
Video marketing is one of the most effective ways to engage your audience. It's one thing to tell consumers how you can serve them; it's another to show them. The 2019 digital marketing landscape shows that 87% of businesses are using video as a promotional tool, and 83% of marketers say that video gives them a good ROI. With numbers like those, there is no denying that this visual marketing strategy is on the rise.
If your business has considered using video to market your products or services but has not yet made a move, you may be missing out on an enormous growth opportunity, both in staying relevant and in increasing sales.
Here are five compelling reasons you should incorporate video into your marketing strategy:
1. Consumers WANT Video. It's simple: if you want to stand out, you need to give the people what they want. These days, consumers prefer video over written content. In fact, 87% of consumers want to see more videos from brands in 2019. Videos are easy to consume, especially in an age when 81% of Americans own smartphones, and 75% of all video plays are on mobile devices. Stay current and aware of where the traffic is, and your viewership will flourish.
2. Boosted Online Presence. YouTube, the second largest search engine in the world, has 2 billion monthly users who watch 250 million hours of videos on their TVs daily. This is a 39% increase in under a year. Videos are favored by Google and thus increase search engine rankings and visibility. And Google owns YouTube, so videos are a significant factor in where you land in the SERPs. The longer someone views your content, the more search engines will trust that your website is trustworthy and valuable.
3. Brand Awareness and Understanding. Videos can attract potential buyers that you weren't reaching before and can help them understand what your products and services are all about. Visual representations allow consumers to recognize your business and keep you top-of-mind when someone is in the market for what you have to offer. This is especially useful when you are launching a new service or product, or when your product requires instructions for use.
4. Increased Conversions and Sales. Establishing brand awareness and understanding can lead directly to an increase in your conversion rate and sales. The more people know about your products and services, and the more they understand how they can benefit from them, the better your odds are of witnessing an influx of customers. More sales equal a better overall return on investment.
5. Illustrates Personality and Authenticity. Video gives you something that written content does not: the chance to put a face to the name. The more your customers recognize and trust you, the more likely they will be to become long-term buyers. Your audience will appreciate the opportunity to get to know your business on a more personal level, which, in turn, will establish a connection to your brand.
Ready to get started with video marketing? Check out our Benefits of Video Marketing Blog: Part 2 post for five strategies you can implement today!