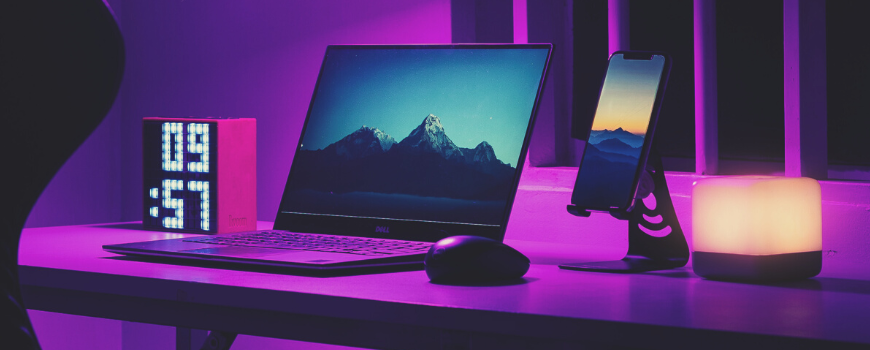 Best Times to Post on Instagram
Running a Social Media account can lead to many questions. Twitter, LinkedIn, and Facebook all have a similar approach and a similar algorithm, but Instagram is completely different. Today we want to help answer a long lingering Instagram question… that is (drum roll please)… When is the best time to post on Instagram?
That question seems as though it should be an easy answer…but it is quite the opposite! Every company, brand, person, and account will have that perfect sweet spot for an optimal time to post. We will walk you through our research as well as our advice to you!
Let's take a look at what the research is saying:
According to Hootsuite and the research study that they completed, the consensus was made that 8 am (EST) on Wednesdays is the best day and time of the week to produce highly engaging content on your Instagram. It was also stated that the best times to post reels are 6 am (EST) and 9 am (EST) Monday through Thursday. One way to really increase engagement this year is to start creating reels, according to Hootsuite, they produce 300% more engagement than regular Instagram videos. Posting more reels and posting at the right time all makes sense but is it true for everyone's profile on social media? The overall effect of posting on Instagram is more accurately defined by your specific audience because every single page has a different purpose.
Later agrees with Hootsuite! They took over 11 million Instagram posts and analyzed them based on images, videos, carousels, and reels, and determined that posting in the AM is the best time! Most times range from 1 am to 6 am (local time), depending on the day. When posted at these very early times, it will allow your followers to view your post during their morning scroll. Based on their research the overall best day and time to post is Monday at 5 am (local time). They say this proves the theory that an "early to rise, early to post" engagement strategy yields the most interactive results. Check out the article for specific days and locations.
We took a look at HubSpot, and their research actually contradicted Hootsuite and Later! According to HubSpot, the best time to post is later at night, between 4 pm and 11 pm, depending on the day. Below is a cheat sheet on HubSpot's research on the best times to post. Through this article, HubSpot reiterated that this one factor is only a small piece of the puzzle. Everything from your audience to Instagram's algorithm to your content are all considered when evaluating your engagement on a post.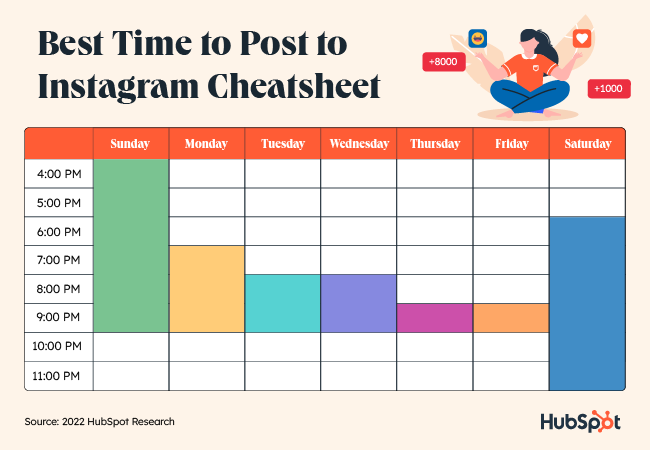 These above results may still lead to the thought, "Okay, so when is best?!" Researching different times to post on social media can be very frustrating due to the inconsistency of information that is out there across different marketing research blogs, as well as the various industries and variables involved in your research.
The answer is based on the Instagram account's followers and the product or personal brand they represent. Community businesses, nonprofit companies, healthcare companies, and entertainment companies will all have different prime times to post on Instagram due to their varying target audience. The best way to figure out when you should post is to try out the following:
Create a social media audit: Track your competition, see what they are doing well and when they are posting, as well as which posts are not doing well within a specific time and day.
Test your content out: The truest form of finding your posting sweet spot is to analyze the information. Start posting on Instagram at scattered times each day (or every other day), and track which posts receive the most engagement.
Use Instagram Insights: If you have a Business Profile on Instagram, you can track specific data regarding your most successful days and hours for posting.

Click on Insights, Total Followers, and scroll down to Most Active Times to get the most accurate and up-to-date information about the hours and days you should be posting for your specific account.
To conclude, the number one data point you must consider is the impact of reach. Deciding who you want to reach and finding out how to reach them when they are using Instagram is essential to increasing engagement. This is where your Instagram page might sink or swim. We hope our handy steps allow you to reach your top engagement or, at the very least, understand your audience and analytics better. Stay tuned for future blog posts where we will discuss how to determine the best times to post on other social media platforms!