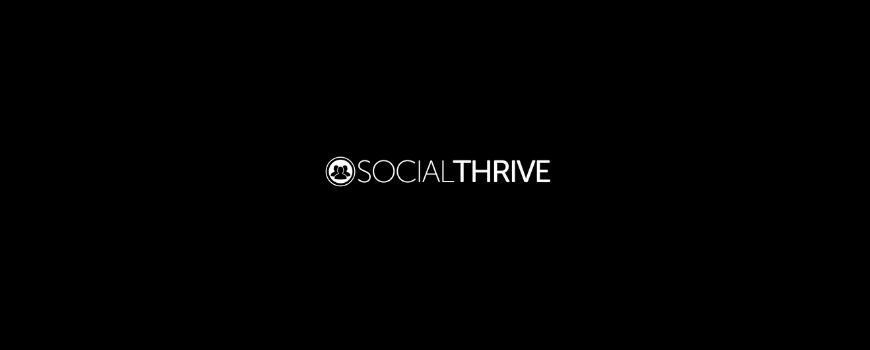 From Drive to Thrive! Boston Social Media Provider Rebrands to Social Thrive and Grows to Full-Service National Digital Agency
INTRODUCING OUR NEW NAME:
Boston, Mass. – September 2018– Social Drive, a digital marketing and advertising agency, has revealed its new brand name, Social Thrive. The change celebrates the agency's record six-year growth and its progression from a social media provider to a full-service online partner. Social Thrive offers a robust suite of digital services such as SEO services, website design and development, social media marketing, inbound marketing, reputation management, online advertising and paid search for businesses.
"Our new identity reflects our evolution. Social Thrive is more integrated and offers clients greater capabilities with a team that is adaptable to market challenges and collaborates for the best results," said Social Thrive's Co-Founder Aubrey Burke. "The new name remains true to our core tenets and prepares us for the future."
Founded six years ago, Social Thrive serves over 51 active clients and organizations in Greater Boston, Connecticut, New Hampshire, Rhode Island, Illinois, New Jersey, and New York. It works with B2B and B2C companies, restaurants, nonprofits, mobile app developers, and commercial and residential real estate developers. The agency maintains a bi-coastal presence with offices in Boston, New York City, and Palo Alto to support clients and business visionaries who are changing how people work and play. Social Thrive's lengthy team experience includes working with well-known start-ups started by Harvard and MIT grads, plus with news aggregators like AOL and the Huffington Post.
"We've built a unique culture that's both team-oriented and ultra-productive," said Social Thrive's Co-Founder Kristine Resendes. "Our agile team has a passion for our industry and offers an unparalleled wealth of knowledge and dedication. Additionally, we will never put our clients in a ticket queue or make them speak to phone prompts. This separates us from our competitors – and for our clients – it is a huge differentiator." Moving forward, Social Thrive plans to expand its client portfolio and increase its local community relationships.
Established in 2012, Social Thriveis Boston-based online marketing and advertising agency offering a full suite of digital services for companies that desire to makea digital presence with measurable behavior and ROI. Its powerhouse team works with brands nationwide and maintains a Boston office with bureaus in New York and California. Social Thrive's capabilities, leadership and dynamic personality are available on its website, on Facebook, Instagram, Twitter,Google+, and LinkedIn.
###
###